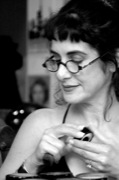 Philosophy

Makeup doesn't have to be merely cosmetic enhancement, it can also benefit the skin. With so many comedogenic products marketed today, its very difficult to choose effectively. It is so important to use professional cosmetics that are matched to each individual by someone with expert knowledge in color theory and a great eye for what improves your appearance.

Method

We offer Jane Iredale Mineral Makeup, which is a fabulous and completely natural line that is ideal for both men and women. This makeup offers bases in a broad spectrum of shades that can be matched to anyone. It combines lightweight natural coverage with a high degree of water resistance, and sun protection. It is also non-toxic, non-irritating and preservative free. There are a wide variety of incredible products for the cheeks, lips face and eyes all composed of beneficial ingredients that actually help to protect, heal and improve your skin. This makeup is part of your skin care! For detailed information we invite you to visit www.janeiredale.com

Service

Clients are provided with up to one hour of personal consultation. Makeup can be as simple or as complicated as desired and everyone is accommodated according to their preferences. Colors are tried and applied in a comfortable setting and foundation is matched to each client in natural light to ensure accuracy and complete satisfaction.

Consultation - $100 (complimentary with purchase of products.)

Purchase

Clients currently using Jane Iredale Mineral Cosmetics are welcome to contact Skin Rejuvenation Clinic at 202.299.9288 to order product for mailing or pickup. If a client has not been matched for color, we strongly suggest making an appointment to do so.

Returns

There are no returns allowed for cosmetics.